JAIPUR DESTINATIONS
the 'Pink City' (as it is popularly called) is one of the most favorite travel destinations among foreign travelers coming to India. Being the capital city of Rajasthan, Jaipur attracts thousands of domestic as well as international travelers every year. The cultural and historical heritage of this city is truly unmatched. The city of forts and palaces, Jaipur has always been an intriguing travel destination. The city scores a perfect ten for its vibrant and colorful atmosphere, festivals, food, local markets, people and God knows what.
Established in 1727 by Maharaja Jai Singh II, the grandeur of this city is simply mesmerizing. The architectural planning of the city may be ancient, but it is India's first planned city. Let's take you on a tour of this magnificent city.
Jaipur, the City of Victory, The capital of the state, Jaipur is also the largest city in the princely state of Rajasthan.It was founded in 1727, by the Kachwaha Rajput Ruler Sawai Jaisingh II, who was the ruler of Amber. Also known by the nickname 'Pink City of India' which is due to the distinctive saffron or pink color of the buildings. The planning of the city was done according to the Vedic Vastu Shastra (Indian architecture). The well planned streets and detailed and artistic architecture make it one of the top preferred tourist locations. Has a habit of tickling travelers pink. Here you'll find a well-preserved and living past – stunning hilltop forts, glorious palaces and humming, bargain-filled bazaars – as well as a wealth of accommodation and dining options. From the timeless bazaars of the old city to the towering malls of glass and chrome, which seem to be sprouting everywhere, there is an amazing array of items for sale – Rajasthani crafts, textiles, art and, of course, gems.
BEST TIME TO VISIT
The best time to plan a trip to Jaipur is from October to March. The weather is quite pleasant during this period and one can easily explore the city without worrying much about the heat. As for summers, they can be really harsh. The desert setting of Rajasthan makes it really impossible to travel during summer months.
HOW TO REACH
By Air - Jaipur International Airport (located in Sanganer) is well-connected to major international and domestic cities.
By Road - Jaipur is well-connected to most of the Indian cities via roadways. State run as well as privately run buses and taxis are easily available. To travel within the city, travelers can opt for local minibuses, auto-rickshaws, taxis and horse carts.
By Train - Regular trains run to and fro from Jaipur to other Indian cities.
MONUMENTAL HERITAGE
Jaipur is world famous for its monumental heritage. Travelers and history lovers from all parts of the world come here to witness its real aura. Most of the buildings in Jaipur were painted Pink in the earlier times and this is why it was named 'The Pink City'. The city is known for its architectural wonders like Amber fort, City palace, Nahargarh fort and so on. So, let's begin our monumental tour of Jaipur.
Amer Fort
One of the oldest forts in Jaipur, Amber fort is an important monumental site. Built in 1592 by Raja Man Singh, this fort is also one of the most important historical buildings of the state. Built on Maotha Lake, this red sandstone and marble fort is equally popular among domestic and international travelers.
Hawa Mahal
Also called 'The Palace of Winds', Hawa Mahal is one of the most popular travel attractions of the city. This five-storey pink sandstone palace was built in 1799 by Maharaja Sawai Pratap Singh. There is also a museum in Hawa Mahal with miniature paintings and some rich relics. This museum is open from Saturday to Thursday.
City Palace
Built in the 18th century, this magnificent palace complex is another famous travel attraction. There are vast courtyards, beautiful gardens, Mubarak Mahal, Chandra Mahal, Pitam Niwas Chowk, Diwan-E-Aam, Maharani Palace and other edifices in the City Palace complex.
Jantar Mantar
Jaipur's Jantar Mantar is one of the largest observatories ever built. There are 14 major geometric devices for measuring time in the Jantar Mantar along with tracking constellations and for observing the orbits around the sun. One will also find the largest sun dial here.
OTHER MONUMENTAL ATTRACTIONS
Gaitore
Jaigarh Fort
Nahargarh Fort
Statue Circle
Jal Mahal
Sisodia Rani Palace
Maharaja Sawai Man Singh II Museum
SHOPPING IN JAIPUR
Jaipur is no less than a paradise for shoppers. A wide range of handicraft items, jewelry, footwear and attires are easily available in the city markets and that too at really affordable prices. You can even buy beautifully crafted semi-precious stone jewelry here. Listed below are some of the most popular markets of the city where you can shop for whatever you wish for. Strong bargaining skills will be much needed here.
Johari Bazar
Tripolia Bazar and Chaura Rasta
Bapu Bazaar and Nehru Bazaar
Mirza Ismial Road (MI. Road)
Ramganj Bazar - for shoes or jutis
Achrol House, Subhash Chowk for carpets
Maniharon Ka Rasta - for lac bangles and jewelery
Sanganer - for block printing, hand-made paper and blue pottery
Kishanpol Bazar - for dye textiles
TAKING THE RELIGIOUS ROUTE
Did you know that Jaipur is also known as 'Chotti Kashi'? Well, it's a fact that most of the foreigners are not aware of. Beside forts and palaces, Jaipur city is also famous for its temple and that is why it was given the title of 'Chotti Kashi'. The temples of the city are more than just a spiritual destination. They are also an architectural wonder. Listed below are some of the most visited temples of Jaipur.
Moti Dungri
Built in 1761 AD, Moti Dungri temple is dedicated to Lord Ganesha. Surrounded by Moti Dungri palace, the temple is situated near the Birla temple in the heart of the city. Constructed by Seth Jai Ram Paliwal, the temple is filled with thousands of devotes on Wednesday (the day dedicated to Lord Ganesha).
Govind Dev Ji Temple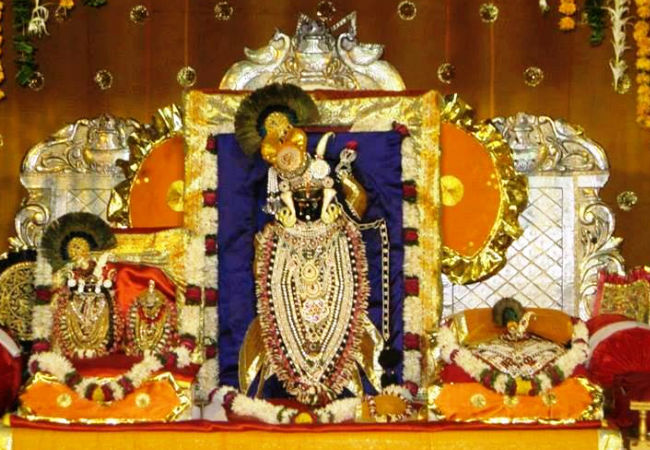 The temple is one of the most sacred destinations in India. Located in the City Palace complex, Govind Dev Ji temple is dedicated to Lord Krishna. There is also a popular legend associated with the temple image of Lord Krishna. It is believed that it looks exactly like the Krishna (like he used to do in his human avatar).
Galtaji Temple
Located 10 kms from Jaipur, Galtaji temple is another popular religious destination in Rajasthan. The temple complex houses several small temples in it. There is a natural water spring here and the temple is truly an architectural wonder. It is also famous for different monkey tribes residing here. Discovery Channel even made a documentary on the same.
Shila Devi Temple
Built in 16th century AD, Shila Devi temple is located in Amber fort. The temple is dedicated to Devi Durga and is visited by thousands of pilgrims every year.
OTHER POPULAR TEMPLES
Khole Ke Hanuman Ji
Birla Temple
Akshardham Temple
Kale Hanumanji Temple
Jagat Shiromani Temple
Garh Ganesh Temple
Jain Mandir Sanganer
Kalki Temple
NOT TO MISS ATTRACTIONS
These are some of the most popular travel attractions of the Jaipur city that every traveler must visit. These attractions are truly a traveler's delight.
Albert Museum
Elefantastic
Vidyadhar Garden
Statue Circle
Birla Planetarium
Sheesh Mahal
Anokhi Museum of Hand Printing
Jaipur Zoo
Kanak Vrindavan Gardens
Gatore Ki Chhatriyan
Chandlai Lake