WILD PARKS & Sanctuaries
India is a haven for a wide spectrum of wildlife. The wildlife ranges from the barren desert, scrub-thorn arid forests,rocks and ravines to wetlands and lush, green forests. And each of these areas houses a large variety of animal and bird life. Typical areas representing each of the ecosystems have been earmarked as special areas wildlife. Some of them rare while some endangered.
Exploring the beauty of wildlife sanctuaries in India has its own appeal. Whether the beasts or other beings of the jungles, watching them at their natural habitats has always been a delightful as well as speculating experience. Wildlife sanctuaries in India have been extremely successful in conserving the wildlife of India. They are the ideal place to witness the imposing beauty of the forests and their endless range of wildlife.
Ranthambore National Park
Ranthambore National Park is one of the biggest and most renowned national park in Northern India. The park is located in the Sawai Madhopur district of southeastern Rajasthan, which is about 130 km from Jaipur. Being considered as one of the famous and former hunting grounds of the Maharajas of Jaipur, today the Ranthambore National Park terrain is major wildlife tourist attraction spot that has pulled the attention of many wildlife photographers and lovers in this destination.
Ranthambhore is best known for its large tiger population. The Indian government started Project Tiger in 1973 and allotted an area of 60 mi2 of the park as a tiger sanctuary. This area later expanded to become what is now the Ranthambhore National Park. This is the state's most well-known tiger reserve under Project Tiger. Home of an expansive variety of other animals in its 392 sq km area,one can spot sambhar,cheetal,wild boar,leopard,sloth bear,jackal,hyena among others.Artificiallakes,dence forests and theshield of theAravallis have helped to make this park very impressive and interesting.
Keoladeo Ghana National Park
Declared a National Park in 1983, this 29sq km park is one of the worlds greatest heronries. Its shallow,fresh water marsh attracts thousands of migratory birds. Over 230 species of birds are known to be resident. It is also a major tourist centre with scores of ornithologists arriving here in the hibernal season. It was declared a protected sanctuary in 1971. It is also a World Heritage Site. Keoladeo Ghana National Park is a man-made and man-managed wetland and one of the national parks of India.
Keoladeo is famous as one of Asia's finest birding areas, with over 380 resident and migrant species, including the Common, Demoiselle and the rare Siberian Cranes. It is also an excellent place to watch mammals like Golden Jackal, Striped Hyaena, Fishing Cat, Jungle Cat, Nilgai, Sambar, Blackbuck and wild Boar. The park derives its name from the temple of Keoladeo (Shiva) and 'ghana' which locally means dense, implying the nature of the vegetation.
Desert National Sanctuary
Rajasthan, India, is situated in the west Indian state of Rajasthan near the town of Jaisalmer. This is one of the largest national parks, covering an area of 3162 km². The Desert National Park is an excellent example of the ecosystem of the Thar Desert. Sand dunes form around 20% of the Park.The region is a haven for migratory and resident birds of the desert. Many eagles, harriers, falcons, buzzards, kestrel and vultures. Short-toed eagles, tawny eagles, spotted eagles, laggar falcons and kestrels are the most common among these.The endangered great Indian bustard is a magnificent bird found in relatively fair numbers.
The great Indian Bustard is a magnificent bird and can be seen in considerably good numbers. It migrates locally in different seasons. The region is a heaven for migratory and resident birds of the desert. It has shrubs and trees in addition. To rolling send dunes. The wild life welth here comprises fox, desert cat, hare, spiney tail uromastix and sandfish.
Jaisamand Sanctuary
Jaisamand National Park is located at a distance of 51 km south east of Udaipur and spread over an area of 160 square km. Jaisamand Sanctuary came into existence in the year 1957. This sanctuary is the habitat of innumerable species which include sloth bear, leopard, chital, chinkara, wild boar and a large number of the birds that breed here such as darter, open bill stork, pond heron, little cormorant and Indian Shag. The aquatic life ad the amphibians are also found in the lake such as the fish and the crocodiles.
Kumbhalgarh Sanctuary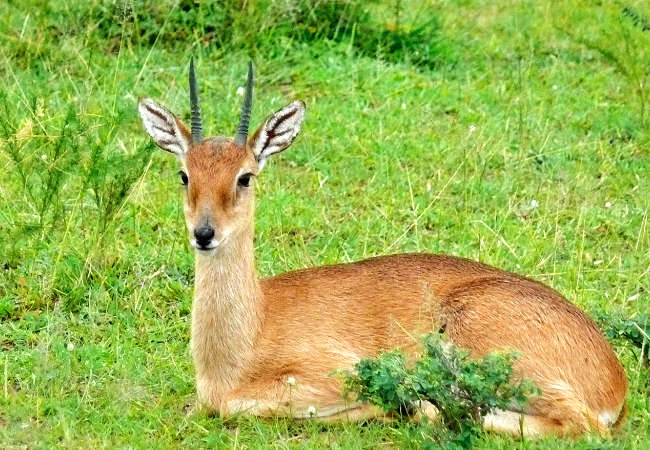 It takes name after the impressive historic fort of Kumbhalgarh, which comes into view over the Park. It is 578 km (223 sq mi) in area, and at an altitude of 500 to 1,300 metres (1,600 to 4,300 ft). The majestic fort of kumbhalgarh overlooks the 578 sq km sanctuary. Kumbhalgarh's natural environment attracts tourists, and is accessible from Udaipur and Nathdwara which is 100 km and 51km respectively from here. Foot tracking and horse safari organised by local tour operators are also available.
A typical safari route enters the sanctuary from the Kumbhalgarh Fort and cuts across the sanctuary it reaches Ghanerao, and then borders an old abandoned road. On this road, one can see chinkaras, neelgais, four horned antelope and birds. The Aravallis hills,which remain barren for most of year,turn green during rains and provide shelter to sloth bear,leopard,flying squirrel. It is also the only sanctuary where the Indians wolf is breeding successfully.
Sariska National Park
Sariska Tiger Reserve is well nestled in the Aravali Hills covering 800 sq km area divided into the grasslands, dry deciduous forests, sheer cliffs and rocky landscape. Nearly 90% of the area in the sanctuary is covered with dhok trees accommodating various wildlife species.The Sariska Wildlife Sanctuary houses the ruins of medieval temples of Garh-Rajor that date back to the 10th and 11th centuries. Also a 17th century castle on a hilltop at Kankwari provides a panoramic view of flying vultures and eagles. The Sariska was declared a sanctuary in 1955 and attained the status of a National Park in 1979.
Sariska park is home to numerous carnivores including Leopard, Wild Dog, Jungle Cat, Hyena, Jackal, and Tiger. These feed on an abundance of prey species such as Sambar, Chitel, Nilgai, Chausingha, Wild Boar and Langur. Sariska is also well known for its large population of Rhesus Monkeys, which are found in large numbers around Talvriksh. The avian world is also well represented with a rich and varied birdlife. These include Peafowl, Grey Partridge, Bush Quail, Sand Grouse, Tree Pie, Golden backed Wood Pecker, Crested Serpent Eagle and the Great Indian Horned Owl.
Mount Abu Wildlife Sanctuary
The highest points of the Aravallis,the Guru Shikhar, lies in this 289 sq km sanctuary. Established in 1960, this provides shelter to the common langaur,wild boar,sambhar and leopard. The grey jungle fowl can also be spotted here.Besides,a number of flowering trees enhance the beauty of this place.
Mount Abu Wildlife Sanctuary, located in one of the oldest mountain ranges in India was declared a wildlife sanctuary in 1980. It has a very rich flora and fauna. The vegetation starts from sub-tropical thorn forests in the foot hills to sub-tropical evergreen forests along PRIYEN water courses and valleys at higher altitudes. A variety of rare and endangered species of animals are found here. The leopard is the apex predator. Other animals found here include sambhar, jungle cat, small Indian civet, wolf, hyaena, jackal, Indian fox, common langur, wild boar, bear, pangolin, common mongoose, Indian hare, porcupine and hedgehog.
Mukundra Hills (Darrah) National Park
Darrah National Park in Rajasthan, India is a national park established in 2004 consisting of three wildlife sanctuaries: Darrah Wildlife Sanctuary, Chambal Wildlife Sanctuary, and Jawahar Sagar Wildlife Sanctuary. It is located within the Kathiawar-Gir dry deciduous forests' ecoregion. Previously the hunting ground of the Kota maharajas, this santuary was established in 1955 and covers an area of 266sq km. This hilly sanctuary with its thick forest is worth a visit. The animals here include wolf, sloth bear, chinkara and leopard.