Historical Tour of Rajasthan
| Duration | destination place |
| --- | --- |
| 16 Nights / 17 Days | Delhi - Agra - Bharatpur - Karoli - Pachewar - Deogarh - Narlai - Luni - Jaisalmer - Bikaner - Kuchaman - Pachar - Jaipur - Delhi. |
If you want to spent one Week in India quick tour which is also not so expensive so you can call us for Historical Tour of Rajasthan. Historical Tour of Rajasthan is a 16 Nights / 17 Days private tour designed for the people interested in the rich heritage and culture of India in a short time. This package includes visit to the major sightseeing destinations of the Historical Tour of Rajasthan route of Delhi, Agra, Bharatpur, Karoli, Pachewar, Deogarh, Narlai, Luni, Jaisalmer, Bikaner, Kuchaman, Pachar, Jaipur, Delhi. The Historical Tour of Rajasthan route is one of the most favorite tourist circuit in India. Accommodation in 3 star category hotels.
Day 01 : Arrival Delhi
Arrival at Delhi International Airport by flight. Warm welcome on arrival and transfer to hotel for overnight stay.
Day 02 : In Delhi
Breakfast at the hotel followed by a full day sightseeing tour of Old and New Delhi visiting - The Red Fort, Friday Mosque -- Jama Masjid, The silver street of Chandni Chowk, Raj Ghat, The Hindu temple -- Birla Mandir, The India Gat, The Rashtrapati Bhawan - President's House, The tomb of Emperor Humayun, Qutab Minar and The Bahai Temple. Overnight in Delhi
Day 03 : Delhi – Agra (204 kms / 05 hrs)
After breakfast, depart for Agra by road (220 kms / 04 hrs). On your arrival in Agra check-in at Hotel. Afternoon sightseeing tour of Agra city visiting - The Taj Mahal and the Red Fort. The visit to the Taj Mahal will long be remembered by you as the highlight of your Golden Triangle with Udaipur tour. Overnight in Agra.
Day 04 : Agra – Bharatpur, Sikandra via Fatehpur Sikri
Morning leave for Bharatpur via Fatehpur Sikri. The ruined city built by Mughal emperor Akbar, mostly built in red sandstone Fatehpur Sikri is a great piece of architecture. Later drive ahead to Agra and on arrival check-in at the hotel. Later our naturalist will take you to Bharatpur Bird Sanctuary which can be explored by a rickshaw ride. Overnight stay is in Bharatpur.
Sikandra - A short excursion from Agra, this Akbar's mausoleum was started by Akbar himself but was finished by his son Jehangir later. Beautifully ornamented gateway, massive sandstone tomb and marble pavilions make it a fine example of Indo-Islamic style of architecture
Day 05 : Bharatpur - Karauli (110 kms / 02 hrs)
Morning you drive towards your next destination in the tour Karauli, on arrival check into the hotel. Afternoon city tour of Karauli visiting City Palace, the old memorial City Palace is a riche trove of architecture, stone carvings, wonderful net work and classic paintings. The exciting beauty of Darbar Hall is an expertise in itself. Also visit temple of Madan Mohan Ji & Kalyan Ji, the divinity of Lord Krishna, worshipped by millions of supporters from Rajasthan and other states. The antique and magnificently built temples of Madan Mohanji and Kalyanji are multitude by thousands of devotees every year. Overnight stay is in Karauli.
Day 06 : Karoli – Bundi (283 kms / 5-6 hrs)
After breakfast leave for Bundi, upon arrival check into the hotel and after wash & change proceed to visit the Taragarh Fort the prime attraction in Bundi. It is a 14th century fort and offers an excellent view over the town and surroundings countryside from the top of it. The fort is conquered by a huge stonework tower called Bhim Burj, built in the 16th century to house Bundi's celebrated canon, the Garbh Gunjam (which approximately translates as "The noise that Echoes in the Womb"). Evening is free to relax and overnight stay is at hotel.
Day 07 : Bundi – Chittorgarh (140 kms / 3 hrs)
palaces, towers, temples, etc. We visit the main attraction here, its colossal fort built as a reflection of Rajput culture and tradition. The Chittorgarh Fort is a massive structure that stands tall over a 180m high hillock. Other than the fort the other interesting places we visit here includes Vijay Stambh also known as Victory Tower, Kumbha Shyam Temple, Rama Kumbha Palace and Kirti Stambh also known as Tower of Fame. Overnight stay is in Chittorgarh.
Day 08 : Chittorgarh – Deogarh (200 kms / 4 hrs)
Morning at leisure and by early afternoon we leave for Deogarh, the small heritage village in Rajasthan. The Deogarh fort is located on a small hill and it is surrounded by the town. It was built in 1670 by Rawat Dwarkadas ji of the Chundawat clan of the Siaodia family. There are five floors and over 200 rooms in it which have fresco done by local painters after whom Deogarh School of painting has acquired fame all over the world. The family has a large collection of Deogarh miniatures. Overnight stay is at Deogarh.
Day 09 : Deogarh - Narlai (70 kms / 1.5 hrs)
Leave for Narlai this morning, upon arrival check into the hotel. Narlai or Rawla Narlai is a small village with ancient caves and temples scattered all over. Tourists here get an opportunity to sneak a peek in the rural life of villages. Rest of the day is free to explore the village on own. Overnight stay is at Narlai.
Day 10 : Narlai - Luni (165 kms / 03 Hrs)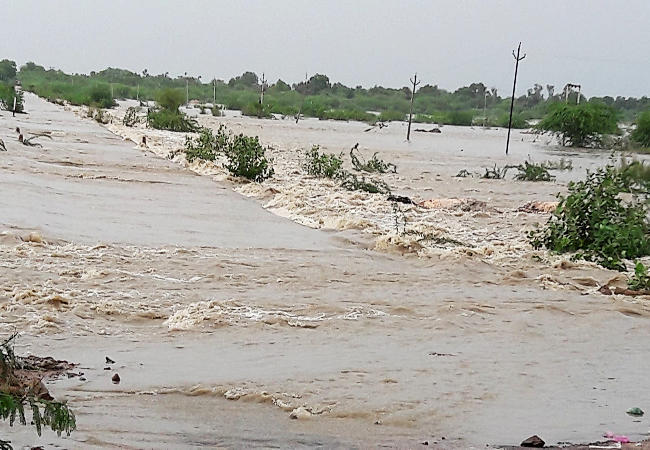 Today morning leave for Luni, upon arrival check into the hotel for relaxation. After relaxation proceed for city tour of Luni visiting the Luni River that has offered a lifeline to dwellers in the desert even though it has been a regular seasonal event and its floods in the history have shaped havoc. Overnight in Luni.